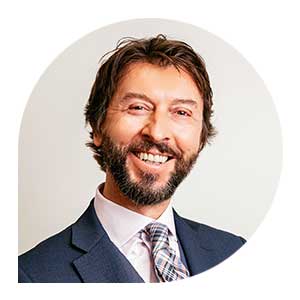 ✓
Medically reviewed on
October 7, 2021
by
President, Chief Scientific Officer and Partner
Are you looking for TMS Therapy in Florida Near West Palm Beach? Our Treatment Center, GIA MIAMI, offers the most advanced and up-to-date, evidence-based treatment approaches tailored to suit your needs. Our outpatient facilities are in the heart of Miami, providing convenience and accessibility for every patient.
TMS Therapy Near West Palm Beach, FL: A Pioneering Mental Wellness Treatment

Transcranial magnetic stimulation (TMS) is a non-invasive and FDA-approved therapy that uses gentle magnetic pulses to stimulate areas of the brain. For more than three decades, millions of people have benefitted from it. For people living with depression, anxiety, addiction, and other mental disorders, certain parts of the brain are underactive or overactive. Stimulating them can have pronounced effects on mood, cravings, and other symptoms.
Everyone's path to mental wellness is different. For most people, the best way to get better involves a combination of therapies that have been shown to work, along with compassionate care and support.
TMS gives a supplementary or alternative approach to behavioral therapies, medicines, and support groups that may revolutionize your recovery path. TMS can be life-changing for patients who have not responded to other treatments.
How Does TMS Therapy Work?
TMS works by passing electrical pulses over the surface of the head. These pulses flow painlessly through the scalp and reach the brain cells beneath. Generally speaking, slower pulses calm brain cells down, while faster pulses make them more active. This can have a noticeable effect on mood and behavior.
TMS is a safe and effective therapy that the FDA approved in 2008 as a treatment for clinical depression. It has far fewer side effects than most medicines - the most common side effect is mild to moderate scalp discomfort that quickly goes away.
Can I Benefit from TMS Therapy?
Medical doctors, psychologists, and therapists initially used TMS as a treatment for clinical depression to increase activity in certain areas of the brain. Since then, experts worldwide have recognized the potential of TMS to treat other mental disorders that may be caused by changes in the brain.

Pioneering clinical studies by GIA's founder Dr. Antonello Bonci and collaborators created strong evidence for the effectiveness of TMS in aiding recovery from substance use disorders, including alcohol, cocaine, pathological gambling, and nicotine addictions. Dr. Bonci and colleagues worldwide continue their tireless research to further our learning and optimize the procedure to help patients in their recovery journey.

At GIA Miami, we offer TMS to treat depression, anxiety, and substance use disorders, as well as TMS for OCD, TMS for PTSD, and postpartum depression.


What Can I Expect from TMS Treatment?
TMS is a painless, non-invasive procedure that does not have any long-term side effects. You remain conscious and can speak with the therapist during the session. The experience is simple and you can drive yourself to and from sessions.

Your TMS session will begin with a 'mapping session' where the therapist uses magnetic pulsations to find the area and intensity of the stimulation that you require.

Once they have found the right area, they will start to stimulate the cells. Sessions usually last around twenty to fifty minutes and are done five days a week for four to six weeks.
Is TMS Therapy Covered by insurance?
Many insurance plans will cover TMS therapies for depression. GIA Miami can work with your insurance provider to find out what level of coverage is available and handle any necessary paperwork.


TMS therapy is often a less costly treatment option for depression and other medical conditions. Many insurance providers cover TMS therapy under certain circumstances. We accept a number of insurances as well as have payment options. To get more information contact us. We are available 24 hours a day.
The success rate of TMS therapy relies on the condition it is being used to treat. For many conditions, scientists need to do more analysis to determine precise rates. However, the evidence so far indicates that TMS therapy can be helpful.
Research has shown that up to 62% of people living with depression experience a full remission, meaning that they no longer experience any symptoms of depression. Other studies have found that symptoms of anxiety improve by 33%.
TMS Therapy Near me in West Palm Beach, Florida
TMS can be a life-changing treatment for many mental disorders. It enables people to resume everyday activities, such as work and home commitments, right after their session ends.
To find out more about TMS therapy, contact us today for a free consultation.
We provide support for West Palm Beach Community: Downtown , Northwood Village , Make Mangonia , Grandview Heights , Mango Promenade , Northboro Park Historic District , Parker Ridge , Palm Beach Lakes , Flamingo Parks , 33401 , 33402 , 33403 , 33405 , 33407 , 33409 , 33411 , 33412 , 33417

Other areas we support: Miami, Hollywood, Palm Beach Gardens