Revolutionize Your Mental Wellness Journey
Transcranial magnetic stimulation (TMS) is an innovative mental wellness therapy that involves passing gentle electromagnetic waves painlessly through the scalp to stimulate certain brain cells. TMS is an FDA-approved treatment for major depressive disorder (MDD), obsessive-compulsive disorder (OCD), smoking cessation, and anxiety symptoms in people with depression. Furthermore, thanks to the pioneering work by Dr. Bonci and collaborators, in Europe TMS received the CE European Community (CE) approval for the treatment of addiction as well. Many research studies have shown very promising results for its PTSD, cognitive impairment and certain neurodegenerative disorders as well.
Many people try TMS when other treatment methods such as antidepressants or psychotherapy have been ineffective, or when the results from these therapies are only partially effective. In these cases, TMS can be added seamlessly to the other treatments. TMS can be a life-changing experience. Two-thirds of people achieve full remission from depression or significant improvements in mood, including those who have previously been resistant to treatment.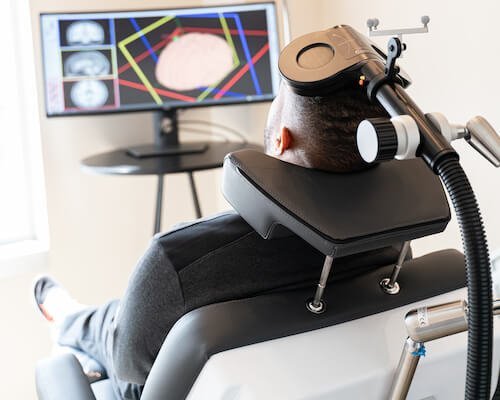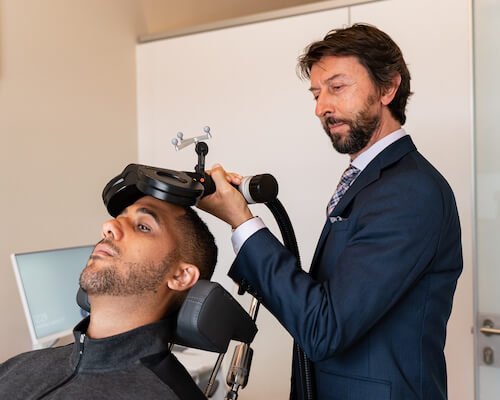 At GIA, we believe everyone deserves to feel their best. We are proud to offer TMS as a treatment for depression, anxiety, OCD, PTSD, postpartum depression, and addiction to help you reach your recovery goals.
Our team includes world leaders in TMS therapy who apply their expert knowledge to our individualized treatment program on a daily basis. Our exceptional expertise allows us to offer TMS to a wide range of clients and help as many people as possible benefit from this innovative treatment. Science and evidence guide everything we do, so we can offer you the very best.
Read more: Success rate of TMS Therapy
Who Can Benefit From TMS?
Scientists and medics initially developed TMS as a treatment for major depressive disorder (MDD). Research and clinical studies offered strong, exciting results. TMS effectively and safely treated clinical depression and could provide long-lasting relief to those resistant to other forms of treatment.
Since then, cutting-edge research has continued every day to help people with other mental health conditions overcome their symptoms and live a fulfilling life. Research has shown important results for TMS as a treatment for OCD, smoking cessation and anxiety disorders, so that the FDA approved its use for all these conditions, with the latest in 2021 being for improving anxiety symptoms in people with depression.
GIA's founder, Dr. Antonello Bonci, and other worldwide experts have been leading cutting edge research into TMS as a treatment for addiction, to the point that in 2021, in Europe TMS received the CE approval for the treatment of addiction as well. TMS can also be an effective treatment for behavioral addictions. A 2019 study by Bonci and others found that in people with a co-morbid gambling and cocaine disorder, TMS helped reduce the severity of gambling as well as cravings for cocaine. At GIA, we offer TMS to people living with behavioral disorders like gambling, as well as substance abuse disorders.
GIA's founder, Dr. Antonello Bonci, and other medics have been leading exciting research into TMS as a treatment for addiction. In randomized clinical trials, TMS has been highly effective in reducing daily cigarette smoking. Other studies have shown a reduction in alcohol consumption and an increase in days of abstinence following TMS for alcohol use disorder.


TMS can revolutionize your path to mental wellness. It is painless, non-invasive, and takes up little time. We offer TMS as an outpatient service, usually involving daily sessions of under an hour over four to six weeks. You can even drive to and from your appointment.
You can fit TMS into your daily routine and around your work and home responsibilities, so it suits even those with the busiest schedule. Whether you are living with depression, anxiety, addiction, or want to increase your mental performance - TMS could be for you.

Read more: TMS for bipolar depression
Will My Insurance Cover TMS?
Your insurance provider may cover TMS under certain conditions, particularly as a treatment for depression. GIA Miami can provide you with information, communicate with your insurance provider, and fill in the necessary paperwork.
Read more: What is the cost of TMS Therapy?

At GIA, we believe everyone should be able to access mental wellness treatments. Finance should not be an obstacle to your well-being, and we offer a variety of payment plans for clients. Please contact us today for a free consultation.
"That moment when they start the treatment, you don't have a craving anymore for cocaine. I literally had zero want to do it again." – A.B.